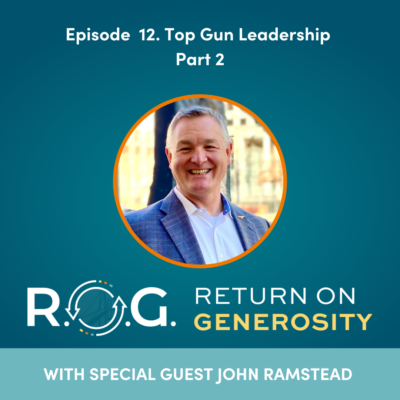 John Ramstead has been married for 30 years to his best friend and has three boys, daughter in law and a grandson. John started out his career as a Navy fighter pilot. He has had a 30 year career as an entrepreneur and CEO. Nine years ago, John had what should have had a fatal accident that changed everything. Today his focus is living beyond influence so the use of his life outlives his life.
"…the key to solving the leadership crisis is connecting to our purpose by understanding who we are."
Favorite quote: "Excellence is the standard, Grace is the word."
Resources:
Speed of Trust: The One Thing That Changes Everything by Stephen M. R. Covey
For more information about R.O.G. Return on Generosity and host Shannon Cassidy, visit bridgebetween.com.
Credits:
John Ramstead, Beyond Influence. Production team: Nani Shin, Sheep Jam Productions, qodpod