"If opportunity doesn't knock, build a door." – Milton Berle
"If you're offered a seat on a rocket ship, don't ask what seat! Just get on!" – Sheryl Sandberg
What are your options to grow and evolve, when you're already at a senior level? Obviously, that depends on your organization, your industry and your interests.
Most people don't reach a high level in their careers without opening some of their own doors and breaking a few glass ceilings. The point is that even when you're happy with what you're doing, it never hurts to look forward to the next step.
Many careers have an obvious path but that doesn't mean that you have to follow it. You can go from an accountant to a department head to an AVP and ultimately CFO, on a financial track. Or you could go from department head to running your own company, developing apps for accountants. However you want to change, there are certain steps you should follow to gather your WHO, WHAT, WHERE, WHY AND HOW. With these, you can be sure that your next move is the right one.
To reach your end goal, you need to know what it is
By end goals, I am referring to your WHERE and your WHAT. Where you want to be in five to seven years and WHAT success looks like to you. Ultimately, if you don't know WHERE you're going, you won't be able to find the right path to get there.
Do you want:
More time for family or personal pursuits
Secure financial positioning
A more creative role
A challenging, ever-changing role
A whole different role from the current one
Ask yourself what a perfect day in your ideal next role would be? That should help you hone down what you see as priority end goals, and what you don't. Factor in things about your current role that you DON'T like. They matter too, in terms of your overall role satisfaction.
In other words, WHAT does success look like to you? If you've already reached senior levels where you are now, odds are success looks different than it did when you were twenty and starting out. That's okay. It's not a fixed target!
Think about WHAT you want right now and for the next few years, not what you think is expected of you or what others want. It's okay if you have several end goals since there is often a way to make them overlap. Prioritize your different end goals and focus in on the top two to help guide you.
Develop and research paths that will take you to role's that include your end goals
Ask yourself WHY you want to reach certain goals. If you want to be CIO, why? Is it to run the whole show? Is it to have control? Is it because you have ideas that you think could take the company into the next generation of technology growth? Think about your WHY and then develop your HOW.
HOW are you going to get there? If financial stability is your goal, entrepreneurship might not be the right choice! If you're bound and determined to become the CIO at the company you're currently working for, what is going to take for you to get there? Figure out the path to what you want. Once you have the path worked out, you can easily determine if you can meet the steps required or not.
Assess your skills and possible sponsors
This is the WHO: Take a cold, hard look at what your skills are and factor in personality traits too. Do you have what it takes to take your career to the next level on a projected path? Do you need to enhance your skills or exposure in certain areas in order to achieve your goals?
If you want that CIO job, what is it that you will need as skills before you will be considered? Research other CIOs at other companies, get a mentor, improve your material skills (public speaking, organizational, etc…).
As to sponsors, is there someone WHO can help you get you where you want to go? Someone WHO will champion your career move, open a door or two or simply give you some solid advice? Work with them, network with them, find a way to open up a conversation and see if they are open to working with you.
Taking some time to reflect on the WHO, WHAT, WHERE, WHY and HOW of your career path is like any business plan: it's a guideline that can help you take the next step without falling into a hole!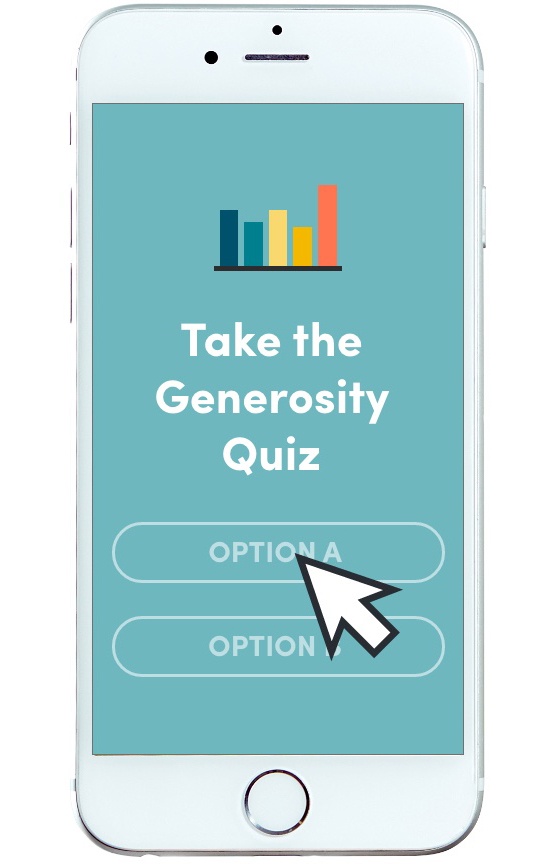 Take the quiz:
What's your generosity quotient?
To become a groundbreaking leader, you need to know where you stand. Discover your default generosity style with our free assessment.