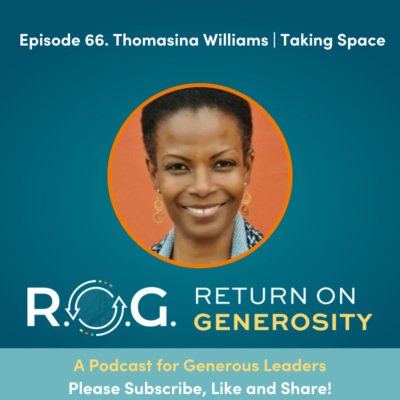 Thomasina Williams partners with families to develop leaders. Working at the intersection of family business, family systems, and leadership development, she helps clients build multigenerational legacies of connected and capable families, who are engaged stewards of their resources. Clients have described her as their "high-beams," lighting the way and guiding them through unfamiliar and uncomfortable territory.
An accomplished lawyer and philanthropy strategist, Thomasina is the founder of Sankofa Legacy Advisors. Her signature work gathers and guides Family Enterprise Women ( "The F.E.W."TM) to propel their leadership and legacy to the next level. Regardless of whether they own or work in the business, she helps them live into the fullness of who they are, simplify the complexities of family, and navigate the challenges of combining family and finances.
Thomasina was the first consultant Wells Fargo Private Bank hired to come in-house and play a leadership role in building a new line of business to help its ultra-high net worth clients navigate the family relationships side of wealth.
Thomasina goes beyond conventional approaches to help family members individually and collectively understand the relationship systems that drive their ability to sustain wealth and well-being across multiple generations. As a result of working with her, family members begin to see and explore possibilities they had not considered previously, leading to increased self-awareness, stronger family relationships, and reduced family financial risks.
Learning about the "shirtsleeves-to-shirtsleeves in three generations" phenomenon, by which 70 to 90 percent of families lose their wealth by the end of the third generation – and realizing that her own family was among these alarming statistics – fuels her passion to help families beat the odds and build enduring legacies.
Thomasina is an advisor to advisors within her field. She serves on the advisory board of privately held Purposeful Planning Institute, and on the board of nonprofit Galliard Family Business Advisor Institute. Beyond the field of family advising, she is a member of the advisory board of privately held Enterprising Women magazine, and is in the processing of transitioning from the board of nonprofit Search Inside Yourself Leadership Institute to the board of its new for-profit subsidiary.
Favorite Quote:
"Those to whom much is given, much is required."
R.O.G. Takeaway Tips:
Take Space for ourselves and others.
Questions we can ask ourselves:
Is this something I want to respond to now?
What might be the other influences and broader context?
How can I interpret this situation with generosity?
Give ourselves and others space and the benefit of the doubt.
Resources:
Coming Next:
Episode 67: We will be joined by Dave Raymond, the original Philly Phanatic!
Credits:
Thomasina Williams, Sheep Jam Productions, Host Shannon Cassidy, Bridge Between, Inc.