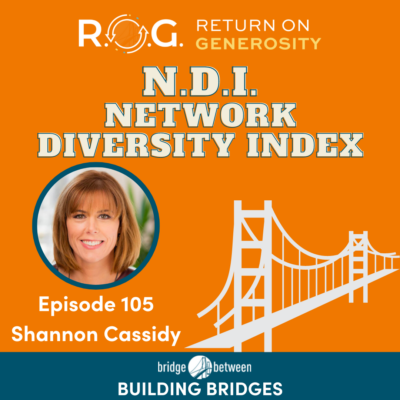 "The N.D.I. Network Diversity Index was designed to enable each of us to see one important aspect of our human experience. Our network." – Shannon Cassidy
Host Bio: 
Shannon Cassidy is Founder and CEO of Bridge Between, Inc. a boutique leadership development firm specializing in behavioral change, executive presence, effective communication, collaborative teamwork, empowering leadership, and conflict resolution. She provides Executive Coaching, Facilitation (team sessions, retreats, conferences) and Keynote Speaking (conferences, annual events, ceremonies) and Mentoring Programs (associations, ERGs, leadership circles) all custom designed. She has a podcast called R.O.G. Return on Generosity that focuses on how to be a corporate generous leader by sharing time, talent and gratitude. 
Shannon combines her keen ability to get to the heart of every matter with a proven track record as a corporate leader. Before founding bridge between, she spent years building profitable businesses and driving innovation and leadership initiatives. This real-world experience formed the bedrock of her success, enabling her to provide clients with the strategies, tools, and inspiration to thrive during organizational change and lead with vision, values, and purpose.
Shannon has authored several articles and books including Discover Your Inner Strength (2009), The Five Degree Principle: How Small Changes Lead to Big Results (2013), V.I.B.E. A Self-Discovery Journey to Authentic Leadership (2014) and Grounded in Gratitude a one-line-a –day, five-year gratitude journal (2015). Her current efforts focus on the benefits of Generosity at Work.
Bridge Between, Inc. provides two free quizzes to help leaders realize their current state as a Generous Leader and how to diversify their networks. Check them out! 
Favorite Quote on this Topic: 
"Inclusivity means not 'just we're allowed to be there,' but we are valued. I've always said: smart teams will do amazing things, but truly diverse teams will do impossible things." – Claudia Brind-Woody
R.O.G. Takeaway Tips:
Audit your network: who do you text? Socialize with? Reach out to for help? 

Take the N.D.I. –

Network Diversity Index 

Make a deliberate effort to improve the diversity of your network in your weakest area: 

Personal/ Local

Work/ Professional

Service Providers

Thought Leaders/ Influencers
Resources:
Coming Next:
Episode 106, we will be joined by Karen Catlin who shares her thought leadership on Ally Actions.
Credits:
Sheep Jam Productions, Host Shannon Cassidy, Bridge Between, Inc.