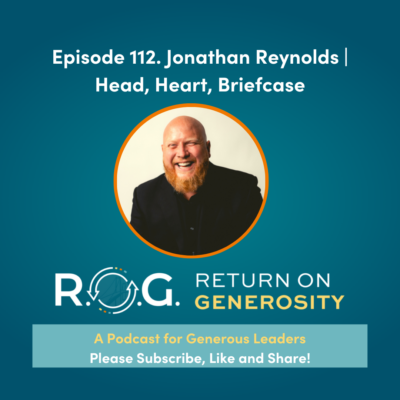 "Generosity is in our heart…releasing it in our hands." – Jonathan D. Reynolds
Jonathan Reynolds Bio:
As CEO of Titus Talent Strategies, Jonathan is a visionary, entrepreneur, and game-changer. He is energized by inspiring company leaders and equipping them with unique approaches to better understand their people, foster organizational alignment, and create optimum performance among their team members. His fun stories and British accent will draw you in, while his cutting-edge ideas and practical strategies will leave you empowered to implement change.
Jonathan is bestselling author of Right Seats, Right People: A Leaders Guide to Hiring and Developing Top Talent and currently leads a unique team of talent consultants that has been on Inc. 5000's list of fastest growing companies for 4 years in a row.
R.O.G. Takeaway Tips:
Head, Heart, Briefcase, and that's for all of us to do our own inventory of, you know, what are our key behaviors, what are our core values, and what are some of the experiences that we have that we leverage in our careers. 

Asking quality questions and opening up conversations to gain information and put the person in a position of power. 

Make generosity a part of your cultural norm and look for ways in and outside of the walls of your business to make a big impact. 

​​Ask the key three questions to recruit and retain A-Players. Where do you want to be in three years? 10 years?  What does it look like for every one of the people in the company? Start with you as an individual. Start with your leaders. 

Am I being challenged every day? 

Do I see the path forward / where am I going/ what's next? 

Do I recognize the value I am contributing? What impact are you having?
Resources:
Coming Next:
Episode 113, Building Bridges Coaching Tips for Generous Leaders with Shannon Cassidy. Topic: Wabi Sabi. 
Credits:
Jonathan D. Reynolds, Sheep Jam Productions, Host Shannon Cassidy, Bridge Between, Inc.