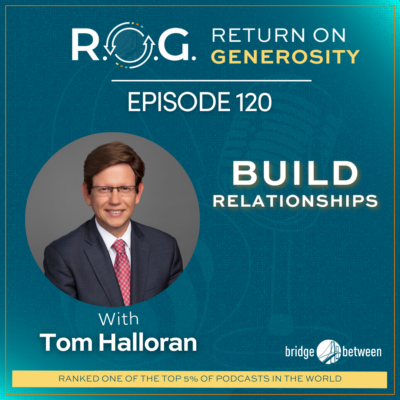 "Invest the time to build relationships." – Thomas Halloran
"Find your partners." – Thomas Halloran
"Do it (building relationships) in a way that allows for growth as an individual, growth as an organization, as a team, and role model what it means to build relationships." – Thomas Halloran
Thomas Halloran
Guest Bio:
Thomas Halloran is President & CEO of Fidelis Care, a health plan subsidiary of Centene Corporation. Fidelis Care serves more than 2.5 million members across all 62 counties of New York State.  In addition, Mr. Halloran is a Senior Vice President, Markets of Centene.  He oversees the New Hampshire and New Jersey health plans as well as New York.
Prior to his current role, Mr. Halloran served as Executive Vice President and Chief Financial Officer of Fidelis Care for more than two years, with responsibility for overseeing provider operations, finance, IT, strategic planning, and product development. He joined Fidelis Care as Chief Financial Officer in 2007.
Before joining Fidelis Care, Mr. Halloran spent 20 years providing financial, strategic, and operational consulting services to a wide range of companies, including health care organizations. Mr. Halloran came to Fidelis Care from the Huron Consulting Group in New York City, where he was one of the founding partners. He was also a partner in the New York City office of Andersen LLP.
Tom received a Bachelor's Degree in Business Administration from Iona College in New Rochelle, NY, and is a certified public accountant.
He is based in Fidelis Care's New York City office.
R.O.G. Takeaway Tips:
Feedback: 
Receive feedback with a growth mindset. 

Prepare to give clear, fair, actionable feedback.
Focus on the mission: What is the purpose and mission? What role does each person play? Investment in time, talent, energy, mentoring, development Invest time to build relationships:
The only mistake you make is the one you make by yourself.

People have to get to know you before they like you and trust you. 

Find your partners.

Allow for growth for individuals and teams.

Role Model building relationships.
Resources:
Coming Next:
Episode 121, Building Bridges Coaching Tips for Generous Leaders with Shannon Cassidy. Topic: Energy Management.  
Credits:
Tom Halloran, Sheep Jam Productions, Host Shannon Cassidy, Bridge Between, Inc.