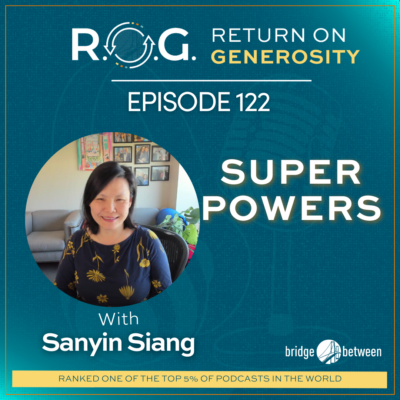 "Every score is built on an assist. Someone has to pass the ball to that person who never makes the score…they record assists in hockey. They record the first assist and the second assist.Why don't we do that in the workplace?" – Sanyin Siang
"..the F word. Feel. We.. feel feelings…if we're really good about behavioral outcomes, do we also think about emotional outcomes and . he emotional journey? Feeling." – Sanyin Siang
Guest Bio:
Sanyin Siang is an investor and advisor to tech founders, VCs, boards, sports industry execs and Fortune 500 CEOs – bringing expertise in culture, leadership growth, and team cohesion as well as a diverse network of influencers.
Recognized by Thinkers50 (the Premier Global Ranking of Management Thinkers) as the world's Most Influential Coach & Mentor, Sanyin coaches C-Suite Teams and develops enterprise leadership programs to unleash human capital and tap unseen potential to thrive in an exponentially changing world. She also has a deep love for working with students- sharing with them insights on what it takes to succeed at the different levels of one's career progression and cultivating their innate and distinctive strengths.
Sanyin is the founding Executive Director of Duke University's Coach K Leadership & Ethics Center at its Fuqua School of Business. The center regularly convenes think tanks to explore cutting-edge issues and is also a leadership laboratory that helps in a baseline leadership experience for every Daytime MBA student. Drawing on her science & engineering background, Sanyin is also an adjunct associate professor with Duke's Pratt School of Engineering, and a Sr. Fellow with Duke Divinity School's Ormond Center, sharing her insights for their work on building thriving communities.
A globally recognized thought-leader, she shares out insights with her LinkedIn following of more than 1 million and was named a LinkedIn Top Global Influencer Voices in both 2017 and 2018. She authored the award-winning The Launch Book which gives readers an action plan for leveraging change using behavioral science concepts. Her ideas have been featured in New York Times, INC, Forbes, Fortune, and The Wall Street Journal.
As a speaker, she has addressed audiences from The White House to military officers, Fortune 500 companies, and CHROs. She is host of the Global Sports Owners & CEO Summit's Series – Conversations with Legends.
Sanyin is a leadership advisor for GV (formerly Google Ventures), Ripcord, The Sports Innovation Lab, and DukeCE. Her board service has included the Museum of Life & Science, The Emily Krzyzewski Center, The US Congressional Award Foundation Advisory Board, National Governing Board of USA Taekwondo. She is an alumnus of the Joint Civilian Orientation Conference (the US Department of Defense's most prestigious civilian program).
Sanyin received her MBA and BSE in biomedical engineering from Duke University. 
R.O.G. Takeaway Tips:
Be who you are.

What is your superpower? 

The value of reflection.

Be

curious and ask questions.

Acknowledge the assists, give recognition and praise for those who are enabling others.

Leadership is also a matter of being, not just doing.

Character matters. Our values matter. 

Know who we are and who we choose to become.

Close the gap between being the person that you aspire to become and the person you are now.
Resources:
Coming Next:
Episode 123, Building Bridges Coaching Tips for Generous Leaders with Shannon Cassidy. Topic: Habits
Credits:
Sanyin Siang, Sheep Jam Productions, Host Shannon Cassidy, Bridge Between, Inc.