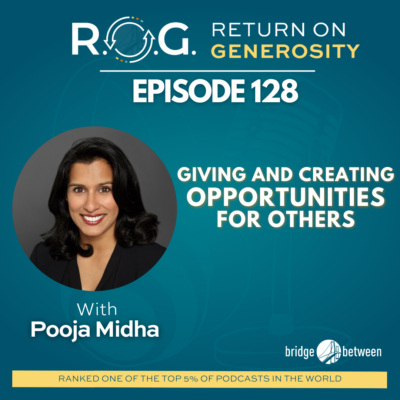 "It is about giving and creating opportunity for others, and that opportunity can come through the literal opportunity you give them, it could come through the feedback that you give them…the context that you give them…,the kindness you give them…that unleashes their greatness. All those things are about giving and creating opportunities for others." – Pooja Midha

Guest Bio:
Pooja Midha serves as Executive Vice President and General Manager for Effectv, the advertising sales division of Comcast Cable. 
In this position, she oversees the company P&L and a national team spanning all sales and sales development, operations, technology, product, data innovation and insights, and customer experience. Pooja is also responsible for driving growth in addressable, multi-screen and audience-based advertising. 
Pooja was formerly chief growth officer for Comcast Advertising. In that role, she led global marketing across the division, which includes FreeWheel, a global technology platform for the TV advertising industry, and Effectv, as well as Effectv's sales development function. In addition to strengthening each unit's brand and differentiated value, she worked with the leadership team to enhance the company's products and solutions within a shifting, multi-screen landscape, emphasizing data and customer value. 
She brings more than 20 years of experience in the media and advertising sector, with a track record of transforming businesses; creating new and innovative models; developing brands, partnerships and talent; and exceeding revenue goals. 
Previously, Pooja served as president of advertising technology company true[X]. There, she was credited with leading the company through two acquisitions while also exceeding business goals, expanding its industry leading product suite, and growing true[X]'s advertiser, premium publisher and technology partnerships. 
Prior to joining true[X], Pooja was senior vice president, digital ad sales and operations for the ABC Television Network. In this role, she created and led the network's digital sales vision and managed its digital sales, planning, and operations teams. Pooja and her team also spearheaded the development of several new video offerings, including programmatic and addressable advertising, major platform partnerships and new products around social, custom ads and branded content. 
Before joining ABC, Pooja held a variety of senior sales and marketing roles at ViacomCBS (now Paramount), in both a domestic and global capacity, including positions at MTV Networks, MTV Networks International and Nickelodeon. She started her career in ad sales at Dow Jones & Company. 
Pooja has spoken at several major industry conferences, including Cannes Lions and Advertising Week. Adweek named her a 2016 "Young Influencer," Cynopsis spotlighted Pooja as one of its 2017 "Top Women in Digital: Industry Leader," Broadcasting & Cable recognized her as a 2021 "Wonder Woman" and Multichannel News honored her as a "Woman to Watch" in 2019 and a "Wonder Woman in Streaming" in 2021. She is also a recipient of the IAB's 2018 Sales & Service Excellence Awards and ANA Business Marketing's "Communicator of the Year" 2022. 
A noted industry thought leader, Pooja has been quoted and featured in several major media outlets, such as The New York Times, Advertising Age, Adweek, AdExchanger, Beet.TV, Variety and more. 
She holds a Bachelor of Arts in International Business and Psychology from Lehigh University and a Master of Business Administration from Columbia Business School. Pooja also completed the National Association of Multi-Ethnicity in Communications (NAMIC) Executive Leadership Development Program from UCLA's Anderson School of Management. A mother of two, she resides with her family in New York. 
R.O.G. Takeaway Tips:
Explain the why behind an assignment, feedback, projects, initiatives 

Be clear, honest, and fair with your feedback

Ask people what they think to encourage them to share their ideas 

Don't assume you know everything

Give and create exposure opportunities for others


Listen and ask quality questions

Make sure there are seats at the table or expand the table




Unleash greatness
Resources:
Coming Next:
Episode 129, Building Bridges Coaching Tips for Generous Leaders with Shannon Cassidy.
Credits:
Pooja Midha, Sheep Jam Productions, Host Shannon Cassidy, Bridge Between, Inc.