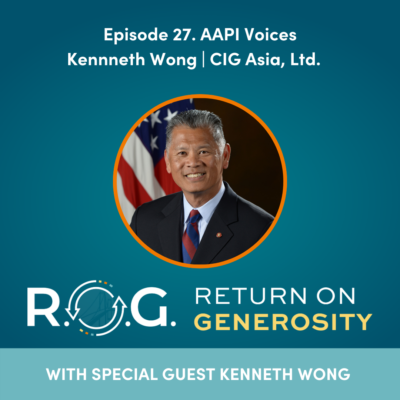 Kenneth Wong is a principal in NavPac Advisors, LLC that brings a wealth of knowledge and experience to both the US and China markets. NavPac Advisors, LLC, under the leadership of Mr. Wong, assists US entities navigate through the complexities of developing strategies and building working relationships in China. In a very short period of time, entities in China realized that NavPac Advisors, LLC could do the same for them in the US market. Today, NavPac Advisors, LLC successfully "navigates entities across the Pacific" utilizing their many skills and established relationships to achieve their clients' goals and objectives.
For over 30 years, Mr. Wong can be credited with combining his business acumen, cross-cultural facility and focused management tactics to establish CIG Asia, Ltd., a successful Philadelphia, PA-based national property and casualty insurance brokerage firm. Under his direction as president, the company provides its diverse client base with the coverage and advice required to weather the vagaries of a complex business environment.
In 2009, Mr. Wong with the assistance of some Wall Street colleagues, founded Covenant Group of China, a US based publicly traded holding company that is partnering with China based SME's that are successfully operating in the booming China domestic economy. Mr. Wong served as the president of Covenant Group of China. In addition to knowledge of the China domestic market trends, Mr. Wong has a very strong working relationship with the People's Republic of China government both in the United States and in China.
Mr. Wong's commitment to full inclusion of Asian Americans and new Americans living, working and doing business in the United States in general, and the Delaware Valley, in particular, has landed him in numerous leadership positions. As example, Mr. Wong, from 2004-2007, was appointed by President George W. Bush to serve as a commissioner on the President's Advisory Commission for Asian Americans and Pacific Islanders where he focused on economic strategies and community development. Through Mr. Wong's efforts, both in Washington, DC and across the Nation many doors of opportunity have been opened for Asian American economic development for large and small businesses.
In May of 2012, Governor Tom Corbett of the Commonwealth of Pennsylvania appointed Mr. Wong to the Chairmanship of his Advisory Commission for Asian Americans & Pacific Islanders. Mr. Wong's agenda includes both Economic and Leadership Development for the Asian American & Pacific Islander communities.
On April 19, 2017, Mr. Wong was appointed by Acting Secretary of the Army, Mr. Robert Speer, as a Civilian Aide to the Secretary of the Army. In this role, Mr. Wong is a liaison between the Office of the Secretary of the Army and the citizens of the United States.
Mr. Wong is a member of the Union League of Philadelphia and participates on the Armed Services Council. He lives in Philadelphia and is the father of two daughters.
Favorite Quote:
"You never know where you are going if you don't know where you have come from."
Resources:
Credits:
Kenneth Wong, NavPacAdvisors, CIG Asia, LTD. Production team: Nani Shin, Sheep Jam Productions, qodpod