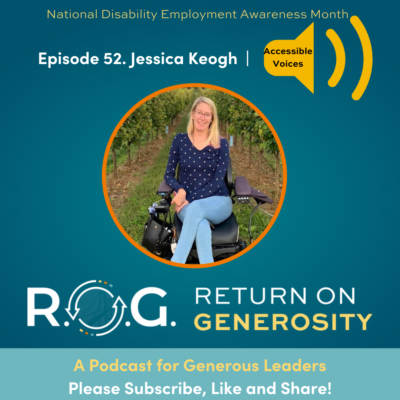 Founder and President of Faith Above my Ability
​Jessica is the founder and President of Faith Above my Ability. She is a 32 year old woman with a progressive Neuromuscular disorder that is yet to be diagnosed. Jessica felt called to create this nonprofit as she continually looks to Jesus for her identity and worth. Knowing first hand how challenging life is with a physical disability, Keogh desires to help others as they navigate resources and tools to live independently.
​
Jessica is currently working on her doctorate and teaches special education full time. Keogh is fiercely passionate, dedicated, and determined to not only make the world a more inclusive place, but change the narrative surrounding disability!
R.O.G. Takeaway Tips:
Be more compassionate toward others, and ourselves.
Don't ask, "What's wrong with you?" or "What happened to you?"
Ask for help. It's a sign of strength.
Recognize and offer your natural gifts and talents. Generously put them to good use.
Until next week, stay generous everyone!
Favorite Quote:
"People will forget what you said, people will forget what you did,  but people will never forget how you made them feel." – Dr. Maya Angelou
Quote from Interview:
"For employers, I think just realizing that people with disabilities have unique strengths. We really are some of the best problem-solvers and very dedicated workers. Working really hard, it's just something that we're used to because we've had to do it our entire lives. And, that carries over into the workplace" 
Resources:
Credits:
Jessica Keogh, Sheep Jam Productions, Host Shannon Cassidy