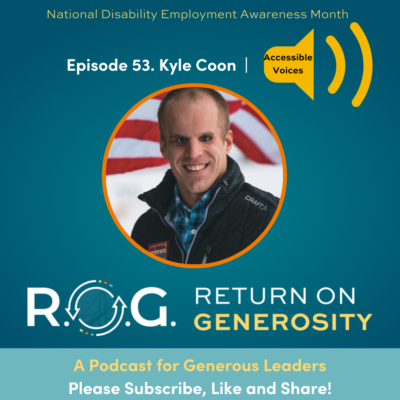 Kyle Coon lost his sight at the age of six after a battle with Retinoblastoma—cancer of the eye. However, not having sight has not stopped him from pursuing vision. Since then he has become a competitive rock climber, downhill skier, runner and triathlete.
As a young child, Kyle was shown how to embrace his adversity by world-class blind athlete Erik Weihenmayer who encouraged him to live life to the fullest. Kyle took Weihenmayer's advice to heart and began pursuing a life of adventure.
In 2006, he hiked the Ankascocha Trail into Machu Picchu. In 2007, he summited Mt. Kilimanjaro at the age of 15.
After graduating from the University of Central Florida with a degree in Communication, he became an endurance athlete competing in numerous marathons and triathlons. In 2018, he was a member of the first team of tandem cyclists with all blind or visually impaired stokers (person on the back of a tandem bike) to complete Race Across America—the world's toughest bicycle race—racing from Oceanside, Calif to Annapolis, Md in seven days 15 hours. Later in 2018, at Ironman Arizona, Kyle became the first totally blind person to complete an Ironman branded Triathlon (2.4 mi swim, 112 mi bike, 26.2 mi run) in under 11 hours. He continues to push himself physically and mentally as he now pursues his goal of representing the USA at the 2020 Paralympics in the sport of Triathlon.
As a young man, Kyle has spoken to major organizations about his adversity and triumphs including various Rotary Clubs in Florida and Taiwan, the International Association of Refrigerated Warehousing, and The American Cancer Society. He has been featured on The Oprah Winfrey Show and in Backpacker and Triathlete magazines.
Losing sight has only served as a base for Kyle's ability to master his ambitions despite his inability to see them. Inspiring those with similar challenges and sharing a few laughs along the way has become his trademark. Drawing upon his experiences as a totally blind person and adventure athlete, he demonstrates the importance of vision, commitment and courage to pursuing an "Eyeronvision" and embracing the adversity along our life's journey.
While he wasn't the first blind person to climb a mountain, run a marathon or compete in a triathlon, his goal is to be one of the best and ensure he isn't the last.
Favorite Quote:
"Make good choices." — Ann Marie Coon
"It's our attitude that allows us to learn from mistakes and that in turn enables one to be great beyond imagination." — Steve Coon
Quote from interview:
"There's always a path forward. There's never a wall that you come to and it's just impossible to get through. If you can't go straight through, the obstacle or barrier in your way, then there's a way around it, or maybe, you just have to climb up and over it."
R.O.G. Takeaway Tips:
Accomplishing can feel like a "false summit". Achieve your goal. Enjoy the view. Set your sights on the next one to stay motivated.
We all can have vision that isn't quantified by sight. Honor your vision. Embrace it. Be relentless in pursuit of your vision. Prioritize and give your best energy to the actions that lead you toward the realization of it.
Make good choices. Make good choices. What are you willing to stop doing? What are will you start doing? What will you continue doing?
Resources: