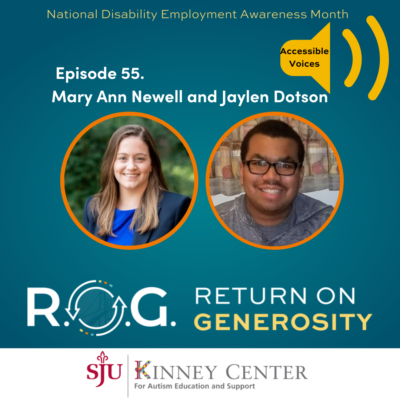 Mary Ann Newell is a Licensed Professional Counselor who has been supporting students with autism spectrum disorder in various capacities for nearly ten years. In her current role, she helps students navigate the challenges of university life and to increase their academic and social competence. Prior to joining the ASPIRE team, Mary Ann taught special education and supervised a clinical treatment team providing comprehensive intervention services to individuals with ASD. Mary Ann has received extensive training in the areas of play and relationship-based therapy, assessment and support of individuals on the spectrum, and in the treatment of trauma.
Mary Ann received her bachelor's degree in psychology from West Chester University and her master's degree in clinical counseling from Chestnut Hill College.

Jaylen Dotson is a graduate of Saint Joseph's University with a Bachelor of Arts in Film Studies and a working SCHOLAR at the Kinney Center. In his current role, he is the editor in chief of the Camp Kinney newsletter and is currently producing an end-of-summer video celebrating the work done by the Kinney Center. Prior to becoming a scholar, Jaylen's first job was with the Department of Defense. During the summers, he worked as a Management Clerk and then a Management Assistant, aiding his supervisors in a variety of administrative tasks. Jaylen is also a writer for the Hawk Newspaper whose column "CineHawk" provides incisive reviews and analysis of the latest theatrical and streaming releases. Before graduating, Jaylen spent two semesters as a peer mentor, providing valuable to younger students at Kinney using his own experience. He also frequently manned the front desk, a task he still occasionally fulfills as needed. Jaylen was quite active in several clubs on campus, including Improv, College Democrats, and Radio 1854.
Favorite Quote:
Mary Ann: "We cannot change what we are not aware of, and once we are aware, we cannot help but change." — Sheryl Sandberg
Jaylen: "I am bent, but not broken. I am scarred, but not disfigured. I am sad, but not hopeless. I am tired, but not powerless. I am angry, but not bitter." — HealthyPlace.com
Quote from interview:
"'We're not that different. We're really not that different from other people who are in the way we think and approach the world, but just that we have to communicate who we are." – Jaylen Dotson
R.O.G. Takeaway Tips:
1. Learn the Vocabulary
One thing all of us must do is get our vocabulary right on differences we don't know enough about. Vocab and terminology from this episode:
ASD – Autism Spectrum Disorder
Neurodiversity – The range of differences in individual brain function and behavioral traits, regarded as part of normal variation in the human population. This term is typically used to describe people with ASD, but may also refer to other differences such as ADD/ADHD, dyslexia, and dyspraxia.
Neurotypical – Term used to reference those who do not have a condition that would qualify them as neurodiverse.
2. Acceptable behaviors. It's important to identify and recognize what behavioral norms are tolerated in our organizations. Behaviors often associated with ASD compared to other tolerated workplace behavior. We need to check our conditioning about what's acceptable. For example, being literal vs. being aggressive.
Resources:
Coming Next:
Episode 56: we will be joined by Mia Ives-Rublee, Director, Disability Justice Initiative – Center for American Progress Action Fund
Credits:
Mary Ann Newell, Jaylen Dotson, Sheep Jam Productions, Host Shannon Cassidy, Bridge Between, Inc.