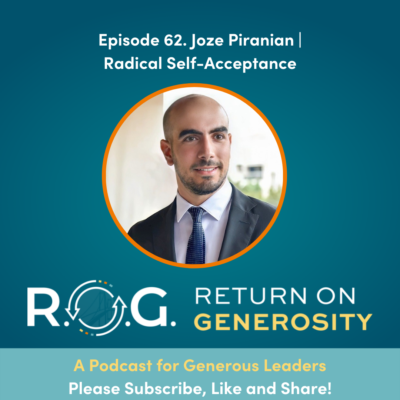 Joze Piranian is a lifelong stutterer turned International Speaker helping people who hold back turn fear into action so that they overcome their "inner stutter" and unlock their true potential in life. After avoiding speaking almost entirely growing up in Beirut due to a debilitating stutter, Joze has won the Inspirational Speaker of the Year award and has performed stand-up comedy in 3 continents and 3 languages. Having graduated from McGill University in Montreal with a Bachelor of Commerce and with a Master of International Business from Queen's University and IPADE in Mexico City, Joze worked as a project manager at a multinational in Toronto and New York prior to leaving the corporate world to face his biggest fear. He has since delivered hundreds of stand-up comedy and speaking engagements around Inclusion and Resilience at organizations, conferences and educational institutions. Joze is also a graduate of the Certificate in Diversity and Inclusion from Cornell University. With more than 3,000,000 views on his speech featured on Goalcast, Joze has also been featured on TEDx, Forbes & NowThis.
Favorite Quote:
"The impediment to action advances action. What stands in the way becomes the way." – Marcus Aurelius
Quote from interview:
"The fear of being rejected or being judged for sounding different, got in the way. And that's an interesting parallel that can be understood through one of my favorite metaphors that I speak about in my talks. And that's the idea that everyone stutters. That inner stutter could be the fear of rejection. The fear of failure or the fear of even the fear of success. And these are all inner stutters that act as roadblocks. And ultimately that shrink our destined by stripping away countless possibilities."
R.O.G. Takeaway Tips:
Questions to consider, thanks to what we learned from Joze:
What's your inner stutter? What area of your life is a block or challenge for you?

       The first step: Identify your inner stutter. What is it?
       The second step – Own it. Embrace it.
       Third step: take deliberate action to work with your inner stutter.

Own your uniqueness! Practice radical self-acceptance. What does radical self-acceptance look like for you? Look in the mirror and celebrate all that you are, exactly as you are.
Until next week, stay generous everyone!
Resources:
Coming Next:
Episode 63: we will be joined by Bill Strahan, EVP Human Resources for Comcast Cable
Credits:
Joze Piranin, Sheep Jam Productions, Host Shannon Cassidy, Bridge Between, Inc.