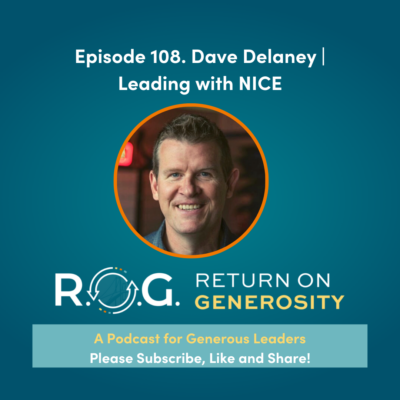 "Companies do exit interviews when somebody has quit and they're leaving. And so, you do an exit interview to find out why they're leaving…and what you could have done better…I would argue you're way better off doing a "stay interview" with your top talent on a positive note just to find out how things are going." – Dave Delaney
Dave Delaney
Guest Bio:
Dave Delaney is the founder of Futureforth.com. He is an author, corporate trainer, executive consultant, host of the Nice Podcast, and keynote speaker known as a communication connoisseur.
Dave is the creator of the NICE Method. He helps fast-growing tech companies reach their people through comprehensive communication workshops and presentations. Delaney works with brands like Google, FedEx, LinkedIn, and UPS.
Delaney is an American Marketing Association award winner in Nashville. He has appeared in USA Today, Entrepreneur, Inc, Fortune, and Billboard Magazine. He has also been mentioned in multiple business communication books.
His acclaimed book, New Business Networking, explores online and offline tools, tips, and techniques to grow and nurture your professional network for your business and career by communicating – the nice way. 
Dave was born and raised in Toronto, Ontario, Canada. He took a trip to Ireland and ended up living with Irish twins in Nashville, Tennessee. It's a long story he will happily share. 
R.O.G. Takeaway Tips:
Practice the NICE Method by doing things like: 
Conduct stay interviews.

What do you like least about working here?

What do you like most about working here? What keeps you here?

What might tempt you to leave?

Write (hand written) thank you cards

AMA sessions (Ask Me Anything) 

Repeat instructions to help you remember and confirm understanding
Resources:
Coming Next:
Episode 109, Building Bridges Coaching Tips for Generous Leaders with Shannon Cassidy. Topic: Believing in Others.
Credits:
Dave Delaney, Sheep Jam Productions, Host Shannon Cassidy, Bridge Between, Inc.