You are distinctive in your industry.
You are the type of CEO who competes in Spartan races, reads 60 books a year, and is always ahead of the curve when it comes to leadership trends.
You do it all. You do it better.
But you're still searching for that secret ingredient that helps you preserve

people

and

profits.
You need a revolutionary solution.
Our expectations around what it means to be an outstanding boss, an inspirational CEO, and an effective manager have evolved.
We are placing less value on individual achievement and analytics and more value on employee experience.
Most leaders excel at one or the other. You can be profitable or you can be inspiring. But you aren't most leaders.
And

generosity

can get you

both.
(Together Everyone Achieves More)
We believe:
Generosity is at the core of every model organization, leadership team, leader, contributor.
Generosity means willingly and wholeheartedly giving time, energy, acceptance, encouragement, feedback, exposure, benefit of the doubt and other non-monetary support.
Performance metrics and priorities must include generosity measures.
Creating intentionally generous cultures begins with the executive leadership team.  What culture do we want? What are the expectations? How do we hold ourselves and others accountable?
High performance teams are diverse teams.  There's no one person who has all strengths.  Collectively a team can "have it all" when they intentionally leverage their individual and collective strengths and differences.
Effective, honest and action-oriented Unconscious Bias training is necessary.
DEI (Diversity, Equity and Inclusion) initiatives are not exclusive to Human Resources or certain leaders or employees.  It's an essential mindset of belonging, respect, curiosity, openness and humility.  Leaders must demonstrate these values and hold all team members accountable to the priority of inclusion.
In helping connect the potential of the organization (talent, diversity, communication, vision, innovation) to performance (cultural connection, customer satisfaction, bottom line benefits).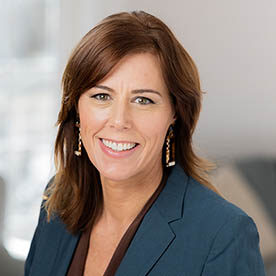 Shannon is the founder and CEO of Bridge Between, Inc.. She is a certified Executive Performance Coach, Keynote Speaker, Facilitator, and is an authority on behavioral changes and leadership. She believes that incorporating small, incremental changes is the key to revolutionizing the workplace.
Shannon has worked with hundreds of CEOs and high-level executives, helping them build generous practices in their everyday lives so they can step up as role models and leaders for their teams.
She has been featured on Forbes.com as one of the top five coaches in Philadelphia and was named the 2015 Executive Woman of the Year by the Network of Executive Professional Women.
Shannon's message of generosity has inspired those who've attended conferences she's spoken at and sparked systemic change within the companies she's mentored.
Shannon is the author of Grounded In Gratitude, V.I.B.E.,an in-depth self-discovery journey, and The 5 Degree Principle, a leadership fable of small changes to overcome career challenges, navigate politics, and recognize empowerment.
She has coached leaders at the following companies:
American Modern • Bacardi • Barclays • Bed, Bath and Beyond/ Linen Holdings/ T-Y Group • Comcast NBC Universal • ESPN • Fila • Heineken USA • Pinewood Atlanta Studios • PGA Tour Superstore • Qurate Group/ QVC, Inc. • Society of Cable Telecommunications Engineers (SCTE) • Time Warner Media/ Turner Broadcasting System, Inc. • Vertex • Wawa, Inc. • Women in Cable Telecommunications (WICT) and many others...