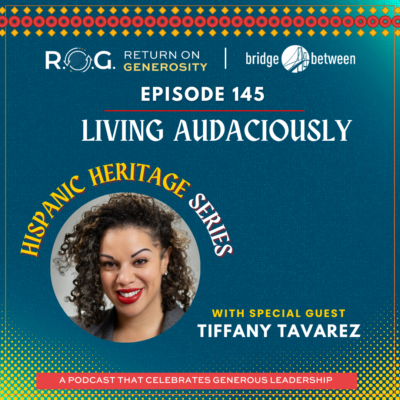 "Every day I wake up, I don't feel the need to explain why I or the community I identify with exists."
"I choose chronic self conviction over chronic self-doubt."
Tiffany Tavarez serves as Senior Vice President, Technology Diversity, Community and Sustainability (TDCS) at Wells Fargo.  This global team focuses on people strategy, cultural transformation, and sustainability. Prior to joining TDCS, Tiffany was Senior Vice President of Community Sponsorships and Strategy, Wells Fargo Advisors and Vice President of Community Relations for the Wells Fargo Foundation. Her career in inclusive philanthropy, program development & strategy and stakeholder engagement has included reputable organizations such as Exelon, Comcast, Temple University, and the Pew Center for Arts and Heritage. 
She has been honored with numerous awards and recognitions including being named in the Philadelphia Business Journal's Top Forty Under 40 (2019); a Women of Excellence honoree by WDAS 105.3 FM (2022) and named one of Philadelphia's Top Women and Top Latino Power Players by Metro Philadelphia (2023). She was named 2023 Love Ambassador with Love Now Media, a Black-owned social enterprise whose mission is to create a more just, well and equitable future by amplifying acts of love at the intersection of social justice, wellness, and equity. In 2023, Tiffany Tavarez was named a Marshall Memorial Fellow (MMF). MMF is the German Marshall Fund's flagship leadership development program created to introduce a new generation of leaders from all sectors who facilitate knowledge and network development for effective transatlantic engagement between the United States and European Union. 
Tiffany Tavarez is currently serving as Chair of the Board of Directors for Monument Lab; Member, Board of Directors for Esperanza; Commissioner for the Pennsylvania Commission for Women under Governor Shapiro; Board of Directors, Forum of Executive Women; and Co-chair of the Children's Scholarship Fund Campaign Committee. She is a first-generation college graduate who has earned degrees from both Temple University and University of the Arts.
R.O.G. Takeaway Tips:
Choose chronic self conviction over chronic self-doubt.

Be audacious. Find ways to stretch what's possible and look for solutions to problems 

Be courageous and take risks. 

Recognize the impact of language. How are we expressing ourselves?  How are we speaking to ourselves?

Get to know or leverage something that's external while getting to know and appreciate yourself.

Discover and learn more about yourself, with delight. 

Civic engagement and volunteerism in a service area you deeply care about.
Resources:
Where to find R.O.G. Podcast:
R.O.G on YouTube
R.O.G on Apple Podcasts
R.O.G on Spotify
How diverse is your network? 
N.D.I. Network Diversity Index
What is your Generosity Style? 
Generosity Quiz
Credits:
Tiffany Tavarez, Sheep Jam Productions, Host Shannon Cassidy, Bridge Between, Inc.
Coming Next: Please join us next week, Episode 146, with Judge Nelson Diaz.