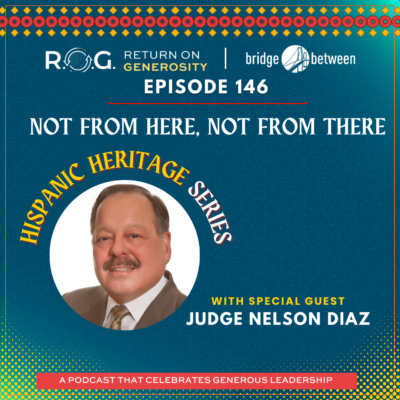 "If you take a survey, everybody thinks that all of the Latinos just got here the other day and came over the border…More than 68% of most Latinos are born in the US."
"There are no U-Hauls at funerals."
In January 2004, Nelson became the first independent Director of the Exelon Corporation that resulted from the merger of PECO Energy and ComEd. Exelon is a Fortune 66 company and is the largest competitive energy company doing business in 48 states, D.C. and Canada. This company, with $60 billion in revenues, employs over 40,000 people nationwide. Exelon works in every stage of the energy business – power generation, competitive energy sales, transmission and delivery. Nelson has been a member of the Risk, Generation and Delivery Committees,  as well as, authored of the Investment Committee's financial achievement. He is a Director of the PECO Energy Board, the most profitable and safe utility affiliate, serving 1.6 million customers with electricity and gas. Nelson is an investor in a financial institution FinClusive and on its advisory board.
In 1975 he joined the Temple Hospital Board of Directors as Chair of the Professional Affairs Committee until 1993 when the President of the United States appointed him General Counsel to the U.S. Department of Housing and Urban Development. He returned to Temple University as  a Trustee in 1997 and served on the Student Affairs and Diversity Committee, Search Committee, Trustee Committee, as well as the Executive Committee. Nelson has played many roles at Temple from teaching to developing a Legal Aid Program for the Law School.
Nelson has served on numerous Corporate Boards including the Legg Mason Family of Funds (1998-2001); Advisory Board of PNC Bank 2008- 2015; Chair, National Foundation for Credit Counseling (NFCC); Chair and Audit Committee, Paradigm Funds (2010-2011); the Board of  Directors of The Convention Center Authority of Pennsylvania (2002-2004); Treasurer and Co-founder, Latino Corporate Directors Association and also the Education Fund from (2014 – present).
Nelson was City Solicitor of Philadelphia from 2001 to 2004, Attorney for Philadelphia Gas Works (serving a million customers) and Counsel to both the Philadelphia Airport, the Philadelphia Water Department, as well as all city personnel.
Nelson was the first Puerto Rican to be admitted to the Pennsylvania Bar and the first Latino Judge in the Court of Common Pleas in Pennsylvania where he served for 12 years. During his tenure, he was appointed Administrative Judge (CEO) by the Supreme Courts where he administered a $90 million annual budget with 2000 employees. He received the National Institute for Justice Award for saving the courts $100 million in 10 years and eliminating a seven years backlog.
Nelson is a senior partner at Dilworth Paxson LLP where he concentrated his practice in litigation, dispute resolution, government relations, energy, and public housing development. His leadership as the Chair of the Diversity Committee, earned him the Philadelphia Bar Association Justice Sonia Sotomayor Diversity Award.
Nelson served on the President's Commission on the White House Fellows from 2000 to 2012. He was a Fulbright Scholar, a White House  Fellow from 1977 to 1978 and has five honorary doctorate degrees and numerous National Awards.
Nelson graduated with a B.S. in Accounting from St. John's University and a J.D. from the Temple University Beasley School of Law. A member of Omicron Delta Epsilon Economic Honor Society. Nelson is admitted in Pennsylvania, New York, Washington, D.C. and the U. S. Supreme Court. Nelson has authored his autobiography "Not from Here and Not from There No soy de aqui ni de alla", Published in October 19, 2018 by Temple Press. He contributes to a weekly 6ABC "Inside Story" roundtable. The publication has won him honors from the Pan American Association, the Pennsylvania Hispanic Chamber of Commerce and Al Dia newspaper. The Philadelphia Legal Intelligencer has recognized him with The Legal's Lifetime Achievement Award in 2013. Hispanic Business considered him 1 of 100 most influential Hispanic American with thousand honor.
R.O.G. Takeaway Tips:
Sometimes you have to take steps backwards to take a steps forward.

Figure out what motivates you, then dig in and don't stop.

Don't fear losing what you have. Believe that you're doing the right thing even if you fail.

There are no U-Hauls at funerals
Resources:
Where to find R.O.G. Podcast:
R.O.G on YouTube
R.O.G on Apple Podcasts
R.O.G on Spotify
How diverse is your network? 
N.D.I. Network Diversity Index
What is your Generosity Style? 
Generosity Quiz
Credits:
Judge Nelson Diaz, Sheep Jam Productions, Host Shannon Cassidy, Bridge Between, Inc.
Coming Next: Please join us next week, Episode 147, with Monica Diaz.