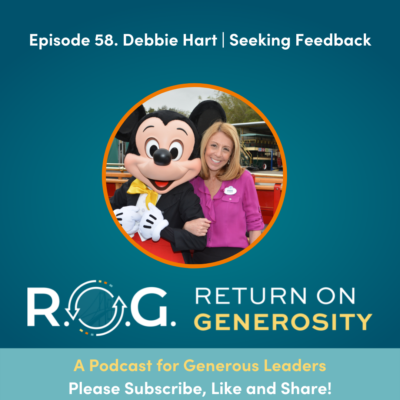 Married to Shel, they are proud parents to twins, Axel & Soleil. And she is a Stepmom to: Dylan, Ashley, and Austin. In the community, Debbie enjoys volunteering and spending time with her "mommy tribe."
Originally from Rochester, New York, she earned her undergraduate degree from Rollins College in Organizational Behavior with a minor in Business Administration. To remain centered, Debbie focuses on her faith and fitness. She begins each day filling her soul and ends the day with gratitude.
Started with Disney on the College Program as a Magic Kingdom Merchandise Hostess.
Prior to 1999: Leadership roles in Attractions, Merchandise, and Custodial at Disney's Hollywood Studios, including Guest Satisfaction/Cast Excellence Manager. This parlayed into her first "official" role in Human Resources as a Guest Satisfaction/Cast Excellence Consultant for Resorts & Parks.
From 1999-2007: Human Resources leadership and expertise supporting multiple business units, including: Resorts, Downtown Disney, Magic Kingdom, Disney Cruise Line, Professional Services, Worldwide Services, and HR Services & Compliance.
From 2007-2017: Director of Experience Services for Walt Disney World, including: Guest Correspondence (letters), Guest Information & Collateral, Resort Call Center, Operations Measurement, and Operations Planning. She was a key strategic partner to the Walt Disney World Senior Leaders for large-scale transformation efforts.
From 2017-2019: General Manager at the Magic Kingdom, generalist focused leadership for: Tomorrowland, Main Street / Park Arrival, and Merchandise Line of Business.
From 2019-2021: Vice President of the WDW Cast Experience team, leading Workforce Management, Operations Training, and efforts focused on enhancing our Site-wide Cast Experience.
Favorite Quote:
"We do not remember days, we remember moments" — Cesare Pavese
Quote from interview:
I don't think of myself as anything to do with my title. But that means something to people. When you call and you take time out of your day, that they consider very busy to ask them how they are."
R.O.G. Takeaway Tips:
Seek Feedback
Offer Feedback
Make personal connections
Resources:
Coming Next:
Episode 59, we will be joined by Shakeel Bharmal, Teacher, Mentor and Coach and CEO of OceanBlue Strategic Advisors
Credits:
Deborah Hart, Sheep Jam Productions, Host Shannon Cassidy, Bridge Between, Inc.