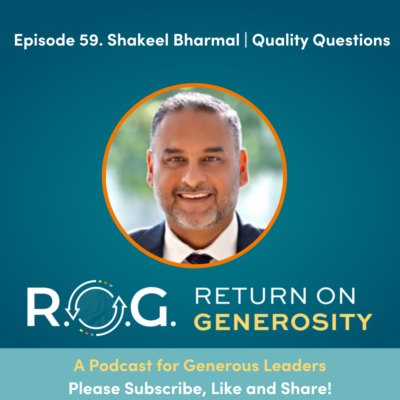 Shakeel is the founder of Oceanblue Strategic, a coaching firm focused on improving the competency, character and commitment of leaders, entrepreneurs and professionals as they embrace the business challenges and opportunities of the next 20 years. He is also a senior member of The Summit Group, a global sales transformation firm with a quarter century history helping Fortune 1000 firms grow revenue and create value for their largest clients. As a practicing executive coach he is one of the founding members of the Ivey Academy Coaching Network at the University of Western Ontario's school of business.
His leadership experience includes serving as COO with the AKDN, a global international development organization, general manager of global logistics, and director of marketing and sales effectiveness at Purolator. Other experiences include: management roles in the retail and wholesale oil & gas sector; teaching supply chain and general management at the University of British Columbia and Gold Platinum Institute in Russia; and as a strategy consultant to clients in aerospace, automotive, aviation, energy, internet and transportation industries.
Shakeel holds an MBA from the Richard Ivey School of Business, where he graduated as Valedictorian. He is based in Ottawa, Ontario, Canada.
Favorite Quote:
"If you change the way you look at things, the things you look at change." – Wayne Dyer
Quote from interview:
"Everyone's got a different motivation…For some, I could see that it was a desire for human connection. It was, they wanted to be able to work with other people like them that cared about similar things and be part of a community of people that was giving and caring. So that was what they wanted. Others wanted a greater meaning from their life…To contribute to. And so for them, that was the motivation to be involved with this because somehow through a little bit of effort, they can go out and make an impact on some, for others."If you change the way you look at things, the things you look at change." – Wayne Dyer
R.O.G. Takeaway Tips:
Ask quality questions:
Low Quality Questions:
Why can't I?
Why didn't I?
Why haven't I?
Why do I?
Why don't I?
High Quality Questions:
How will I?
How can I learn from this?
What will motivate me to…
What is causing me to…
What am I learning about my reasons for not…
Practice intentionally using more "what" or "how" questions with yourself and others.
Resources:
Coming Next:
Episode 60, we will be joined by Jerry Won, storyteller, brand builder, and Founder & CEO of Just Like Media
Credits:
Shakeel Bharmal, Sheep Jam Productions, Host Shannon Cassidy, Bridge Between, Inc.