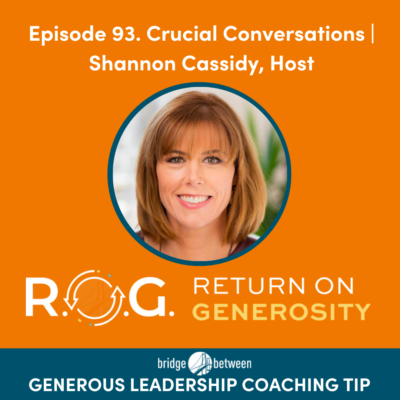 93. Crucial Conversations | Generous Leadership Coaching Tip

Have the conversation. 
Host: Shannon Cassidy
Shannon Cassidy is Founder and CEO of bridge between, inc. a boutique leadership development firm specializing in behavioral change, executive presence, effective communication, collaborative teamwork, empowering leadership, and conflict resolution. She provides Executive Coaching, Facilitation (team sessions, retreats, conferences) and Keynote Speaking (conferences, annual events, ceremonies) and Mentoring Programs (associations, ERGs, leadership circles) all custom designed.
Shannon combines her keen ability to get to the heart of every matter with a proven track record as a corporate leader. Before founding bridge between, she spent years building profitable businesses and driving innovation and leadership initiatives. This real-world experience formed the bedrock of her success, enabling her to provide clients with the strategies, tools, and inspiration to thrive during organizational change and lead with vision, values, and purpose.
Shannon has authored several articles and books including Discover Your Inner Strength (2009), The 5 Degree Principle: How Small Changes Lead to Big Results (2013), V.I.B.E. A Self-Discovery Journey to Authentic Leadership (2014) and Grounded in Gratitude a one-line-a –day, five-year gratitude journal (2015). Her current efforts focus on the benefits of Generosity at Work.
Episode Info:
Thank you for joining me on this bi-weekly Building Bridges Generous Leader Coaching Tip.
This week's focus is on Crucial Conversations based on this book. The book helps us to understand that when the stakes are highest, we tend to show up as our worst.
At work, this looks like:
Talking to a coworker about an offensive comment

Giving boss feedback about behavior

Critiquing a team members work

Giving an unfavorable performance review
Why do we show up so badly at these pivotal moments?
They are uncomfortable; we'd rather avoid them, so we wait too long, and we feel stressed which causes us to Flight or Fight. Crucial conversations call this silence or violence.
Silence sounds like: "Something bothering you?" "Nope."

Violence sounds like: "Something bothering you?" "Yes. You."
The way Crucial Conversations explains the flow:
We See and hear something

We Tell a story about it

We Feel some kind of way about the story we just told

We Act based on that feeling
 The three stories that take us to silence or violence are three kinds of stories:
Victim story "it's not my fault."

Villain story "it's totally your fault."

Helpless story "there's nothing I can do."
Choose your next move wisely. It will make all the difference.
Resources:
Coming Next:
Join me next week with Jenn T. Grace. Until then, stay generous everyone!
Credits:
Sheep Jam Productions, Host Shannon Cassidy, Bridge Between, Inc.