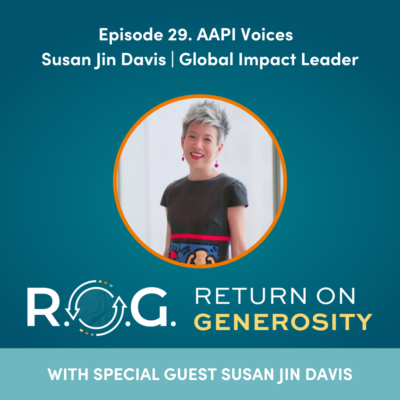 Susan Jin Davis, former Chief Sustainability Officer (CSO) of Comcast NBCUniversal, is an industry expert and senior CSR executive with over 25 years of experience in communications, media, entertainment and technology. As Comcast NBCUniversal's first Chief Sustainability Officer, Ms. Jin Davis was responsible for identifying sustainable strategies and priorities and for implementing the company's Sustainability Program across all of Comcast NBCUniversal business units and functions.
Prior to her promotion as CSO, Ms. Jin Davis served as Senior Vice President of Operations Compliance at Comcast, where she implemented product policies, operationalized regulatory and legal requirements, reduced costs to the cable business, and managed business compliance in the areas of privacy, data security, piracy, and environmental health and safety.
In 2011, Ms. Jin Davis negotiated a historic Memorandum of Understanding between Comcast and the Asian American and Pacific Islander (AAPI) national community as part of the company's acquisition of NBCUniversal. This created ground-breaking diversity commitments in the areas of programming, supplier and employment, and community investment. She served on Comcast's Internal Diversity Council and she was the company liaison to the external Comcast NBCUniversal Joint Diversity Council and to the AAPI community. Ms. Jin Davis was the executive sponsor of Asian Pacific Americans at Comcast, a company-sponsored employee resource group, which focuses on the recruiting, promotion and development of Asian American and Pacific Islander talent. Over the past decade, she has helped to create leadership development programming for Comcast's Asian American employees.
She led the launch of Comcast's Internet Essentials Program, which offers affordable high-speed internet for low-income households. Now in its tenth year, Internet Essentials is Comcast's largest, most successful community investment initiative, which has connected more than 10 million low-income Americans to all the opportunities of a digital world through low-cost, high-speed internet at home.
Recognized by Forbes as one of "Five Women of Color Who Should Be On Your Radar Screen," she completed the Women in Cable Telecommunications Senior Executive Summit at Stanford University's Graduate School of Business, the Women's Executive Leadership Program at the Wharton School of Business and the Cable & Telecommunications Association Executive Management Program at the Harvard Business School. She has been named one of the "Most Powerful Women in Cable" by CableFAX Magazine and one of the "Top 50 Most Influential Minorities in Cable" by CableWorld for many years.
An advocate for AAPIs in business and corporate America, she is active in the community nationally. She serves as the Chair of the Board of the Asian Pacific American Institute for Congressional Studies and is a director on the Board of the Asian/Pacific Islander American Chamber of Commerce & Entrepreneurship. Additionally, Ms. Jin Davis is a past board member of Leadership Education for Asian Pacifics and the Asian and Pacific American Scholarship Fund. Her other volunteer leadership service includes the Board of Directors of the Juvenile Law Center and the Board of Trustees of her undergraduate alma mater, Bryn Mawr College where she earned a Bachelor of Arts degree in political science.
She holds a Juris Doctor degree from the Dickinson School of Law of Penn State University. The active runner resides in the Philadelphia area with her daughter, Sophia.
Favorite Quote:
"The time is always right to do what is right." — Martin Luther King, Jr.
Quote From Interview:
"The answer was like, shut up and be like these model minorities who are not asking for such outrageous things as equality and justice. They're not complaining!"
Resources:
Credits:
Susan Jin Davis, Laarni Rosca Dacanay, Sylvie Viola. Production team: Nani Shin, Sheep Jam Productions, qodpod