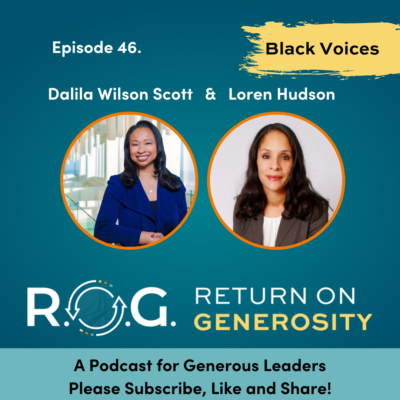 Dalila Wilson-Scott serves as Executive Vice President and Chief Diversity Officer of Comcast Corporation and President of the Comcast NBCUniversal Foundation. In this role, Dalila oversees all Diversity, Equity, & Inclusion initiatives and philanthropic strategy for the corporation, including the company's $100 million commitment to advance social justice and equality.
Dalila also leads Comcast's community impact initiatives, working across the organization to provide strategic leadership throughout all aspects of its corporate social responsibility programs, including employee engagement and volunteerism. In addition, Dalila oversees efforts to utilize Comcast's world-class media platforms to bring greater attention to the work of our philanthropic partners. In 2020, Comcast provided nearly $500 million in total support to 4,500 nonprofit partners sharing Comcast's commitment to creating a more connected and equitable world.
Dalila joined Comcast in 2016 after more than 16 years at JPMorgan Chase & Co., where she served as Head of Global Philanthropy and President of the JPMorgan Chase Foundation. She led the firm's philanthropic and economic opportunity initiatives, including the firm's $100 million commitment to Detroit's recovery, while helping to set the company's overall corporate responsibility strategy. Prior to joining the Office of Corporate Responsibility, she served in the firm's Corporate Merger Office as an integral member of the team managing the integration of JPMorgan Chase and Bank One.
In addition to serving on the boards of Welcome America, Inc. and Box.org, Dalila is a member of the Executive Leadership Council. She previously served as a member of the Committee for Economic Development, and the Advisory Council of My Brother's Keeper Alliance. Dalila has been named one of the "Most Powerful Women in Cable" by Cablefax Magazine, receiving the 2019 inaugural "Wave Maker" Award; one of the "Most Powerful Women in Business" by Black Enterprise; and an "Innovative Rising Star: Building Communities" by Forbes magazine. Dalila speaks regularly on philanthropy and equity issues, most recently at the Aspen Ideas Festival, Social Innovation Summit, MIT Solve, USC Center on Philanthropy and Public Policy and the Women's Philanthropy Institute's Annual Symposium. She earned an MBA in Finance and Management from New York University's Leonard N. Stern School of Business and a B.A. in Economics from New York University's College of Arts and Science.
Loren Hudson is Senior Vice President and Chief Diversity Officer for Comcast Cable. In this role, Loren leads a shared effort to execute a Diversity, Equity, and Inclusion (DE&I) human capital strategy that is reflective of and builds upon Comcast Cable's business goals. As the first CDO for Comcast Cable, Loren also serves as a key partner to the company's leaders and the broader Human Resources organization, with an eye toward establishing frameworks for DE&I accountability and serving as a driver of employee training, career development, and education.
Since then, she has held a variety of positions of increasing responsibility, most recently serving as Vice President of Human Resources for the Comcast Beltway Region's more than 3,000 employees across Maryland, Delaware, Virginia, Washington, D.C., and West Virginia.
Loren received her bachelor's degree in Labor Relations as well as a Master of Labor Relations from Rutgers University. In addition to her work at Comcast, she is an active member of Women in Cable Telecommunications (WICT) and a graduate of WICT's Betsy Magness Leadership Institute, as well as a graduate of the Women's Executive Leadership Program at The Wharton School of the University of Pennsylvania. She is also a member of the Society for Human Resource Management (SHRM) and a certified Professional in Human Resources (PHR).
Favorite Quote:
"We must accept finite disappointment, but never lose infinite hope." — Martin Luther King, Jr. "I've learned that people will forget what you said, people will forget what you did, but people will never forget how you made them feel."  ― Maya Angelou 
Quote from Interview:
"Not only do our talent partners have to be committed, our leaders have to be committed… We need those two pieces aligned, so when we're hiring, when we're promoted, when we're providing opportunities within the organization for development and exposing our teammates, we have to have a DEI lens to ensure that everyone has an equal opportunity to make progress and to succeed within the organization." Loren Hudson
"Building on this longstanding history and commitment to getting people connected and making sure that our work is making a tangible difference in creating more economic opportunity. Social justice is rooted in economic justice." Dalila Wilson-Scott
Resources:
Here are some fantastic Black-owned businesses to consider that the R.O.G. Team recommends.
| | |
| --- | --- |
| McBride Sisters Collection | The Largest Black-Owned, Women-Owned Wine Company In The US |
| Glow Global Events | Virtual events, Hotel + Travel management, Live events |
| Propellant Media LLC | Digital marketing and media solutions provider |
| TKT | Provides HR services to companies with a focus on diversity and inclusion, talent fulfillment, workforce management, managed services, and spend management |
| Lease Query | Accounting software for accountants and financial professionals |
| Impyrian | IT, Cyber Security, AV Teleconferencing, Engineering |
| Shine | Self-care app for people with anxiety and depression |
Credits:
Dalila Wilson-Scott, Loren Hudson, Sheep Jam Productions, Host Shannon Cassidy