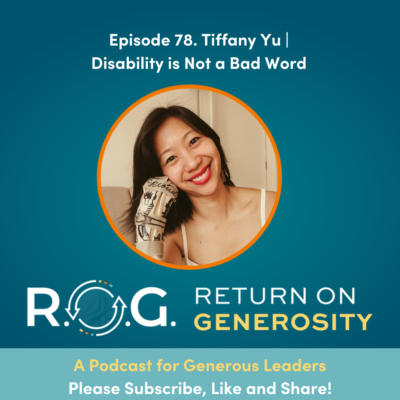 Tiffany Yu is the CEO & Founder of Diversability, an award-winning social enterprise to elevate disability pride; the Founder of the Awesome Foundation Disability Chapter, a monthly micro-grant that has awarded $58.5k to 59 disability projects in 9 countries; and a content creator with almost 160k+ followers across platforms. She serves on the San Francisco Mayor's Disability Council and was a 2020 Co-Chair of the World Economic Forum Sustainable Development Impact Summit. At the age of 9, Tiffany became disabled as a result of a car accident that also took the life of her father.
She started her career in investment banking at Goldman Sachs and has also worked at Bloomberg and Sean Diddy Combs' REVOLT Media & TV. She is a 3x TEDx speaker and spoke on 5 sessions at the World Economic Forum Annual Meeting in Davos. She has been featured in Marie Claire, the Guardian, and Forbes.
Favorite Quote:
"The work of the mature person is to carry grief in one hand and gratitude in the other and to be stretched large by them. How much sorrow can I hold? That's how much gratitude I can give. If I carry only grief, I'll bend toward cynicism and despair. If I have only gratitude, I'll become saccharine and won't develop much compassion for other people's suffering. Grief keeps the heart fluid and soft, which helps make compassion possible." — Francis Weller
Quote from interview:
​​"Just because I exist means that I have a gift to impart on the world . . . It hurts my heart that so many of us feel devalued because of the way that our body and our mind works differently. And I think that the challenge for companies is how can you find what that gift is?"
R.O.G. Takeaway Tips:
Use inclusive language in onboarding and ask, "What accessibility needs do you have to thrive in this environment?"

Start or join an ERG (Employee Resource Group) for Disabled Employees. It can be called Disability Interest Forum, Disability Employee Resource Group or whatever you think best represents the talent you aim to support. Leverage the thought leadership and community from Diversability.
Resources:
Coming Next:
Episode 79: we will be joined by Fred Maahs, Founder and CEO of Maahs Travel.
Credits:
Tiffany Yu, Sheep Jam Productions, Host Shannon Cassidy, Bridge Between, Inc.