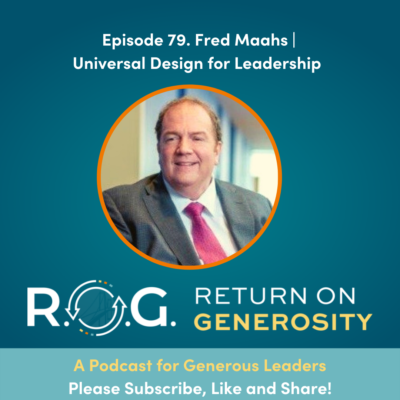 Fred Maahs, Jr. is a passionate and recognized leader in the international disability community and in corporate America.  He is also a renowned champion for diversity and inclusion. 
After more than 30 years as a corporate executive, Fred founded FJM Solutions, LLC in 2019 and Maahs Travels in 2021.  As a consultant, Fred is focused on underserved and underrepresented populations, especially people with disabilities. He is an accessibility travel and tourism expert and internationally recognized keynote speaker who finds solutions for "Fostering Inclusion Universally."  Also, in 2019, Fred joined Tarita Davenock and Travel for All as a partner and Chief Operating Officer.  Travel for All is headquartered in Canada and provides global, accessible and inclusive travel experiences tailored to the unique needs of each traveler.  In 2020, Fred was named Editor of a new digital magazine, Melange Accessibility for All, and he served on President Joe Biden's Campaign 's Disability Policy committee. In addition, he is currently working with individuals throughout Central America and the Caribbean to plan and present at the 5th Continental CBR Congress of the Americas and the Caribbean.
Fred is a Board Director and a Past Chair of the American Association of People with Disabilities, was a Director and Past Vice Chair on the National Easterseals Board of Directors where he led the Marketing and Development Committees, served on the Board Development Committee for The Arc of the United States and was chosen to lead the Corporate Sponsor Council for Big Brothers Big Sisters of America.  He serves on the Advisory Committee for 360-Access, and he also serves on the Disability:IN (formerly known as the US Business Leadership Network (USBLN®)) Disability Equality Index Advisory Committee and its Honorary Advisory Board for the America's Disability Rights Museum on Wheels.  He also serves on the Advisory of the Board Committee for Voiceitt, and the Advisory of the Board Committee for GesturesUp, both are Israeli-based IT startups focused on helping people with disabilities to communicate more effectively and to live more independently.
Fred has served on three panels at the White House regarding issues that impact the lives of people with disabilities. He has presented on the issues faced by people with disabilities when traveling by air to the United States Department of Transportation.  Invited by the King Foundation, Fred delivered a speech on the steps of the Lincoln Memorial on August 28, 2013, along with Presidents Obama, Clinton, and Carter, as well as a number of renowned celebrities and civil rights leaders. On that day, Fred represented the nation's disability population during the "Let Freedom Ring" Celebration commemorating the 50th Anniversary of the March on Washington for Jobs and Freedom. This was the first time that the disability population was included in the anniversary events.
Fred has been the subject of many publications and articles for his accomplishments as a person with a disability and for being a devoted champion for the disability population.  Fred has shared his personal and professional journey with countless audiences around the world during events that include the inaugural Dubai Accessible Tourism International Summit in 2019, the New Jersey Conference on Disability and Employment, the National Mentoring Summit in Washington, D.C., the Annual National Convention for The Arc, the Ruderman Foundation Summit for Inclusion, the Digital Arts Festival for Boys & Girls Clubs of America, the Center for Corporate Citizenship Leadership Series and Annual Conferences, and in numerous worldwide publications. He has delivered keynote speeches and participated in Town Hall and panel discussions on numerous topics that impact people with disabilities.
In 2019, he represented Travel for All during the inaugural Dubai Accessible Tourism International Summit in Dubai, sharing the stage with accessible tourism experts from around the world. In early 2020, he traveled to Israel and worked with Israel's Ministry of Tourism to assess and promote accessible tourism in Israel on behalf of Travel for All. Late in 2020, Fred was invited back to Dubai to assess and report on accessibility for hotels, resorts, museums, parks, and historic sites.
In 2019, Fred received the "Belief in the Power of Young People Award" from City Year, presented to him for "extraordinary leadership and unwavering commitment to ensuring all children have the opportunity to reach their full potential and building the next generation of leaders."  In March of 2019, Comcast NBCUniversal announced the Fred J. Maahs, Jr. Assistive Technology Grant Fund. The fund, named in Fred's honor for building the partnership with Easterseals and for his service on the Easterseals National Board of Directors, supports a variety of technology programs and services, from braille-equipped handheld computers to augmentative communication devices. In May of 2019, Fred was recognized by Big Brothers Big Sisters of America as a "Defender of Youth" for his unparalleled commitment to youth in America, to ensure all kids have a path forward. Fred was selected as the "2015 Humanitarian of the Year" by the The Buoniconti Fund – the fundraising arm of The Miami Project to Cure Paralysis, for all of his work and advocacy on behalf of people with disabilities across the country. He was chosen by the Governor of Delaware as Employee of the Year in 2002 and was the first recipient of the John Jefferson Memorial Courage Award in 2002. He has also received numerous marketing and communications awards throughout the Delaware, Pennsylvania, and New Jersey area.
He has been involved in many community-based volunteer efforts for Easterseals, served as Vice Chairperson for the Mayor of Wilmington's Access Wilmington Committee, and served on the Winterthur Museum and Gardens Access Advisory Board. 
Fred has worked for some of the country's largest Fortune 50, 100, and 500 companies.  He joined Comcast in December of 2007 and until April, 2019 was the Senior Director, Community Impact, Comcast Corporation, and Vice President, Comcast Foundation.  He was responsible for the strategic leadership of Comcast's national strategic partnerships with organizations including City Year, Easterseals, Big Brothers Big Sisters of America, Boys & Girls Clubs of America, The Arc, numerous relationships with Native American organizations, and a variety of diverse partnerships at the corporate and regional level.  In addition, he helped to create and then served on Comcast's Joint Diversity Council and was an Executive Champion of the MyAbilities Network – one of Comcast's Employee Resource Groups.  Fred began his career at Comcast responsible for the company's national signature employee engagement programs – Comcast Cares Day, a world-wide annual day of community service, and the annual United Way Employee Giving campaign, as well as the Comcast Leaders and Achievers Scholarship Program.
From 2004 to 2007, Fred worked for ARAMARK where he assumed the newly created role of Director of Community Relations with a focus on developing and implementing the company's Star Teams initiative – a strategic, company-wide employee engagement program. This initiative encompassed more than 12,000 managers across North America and the UK and focused on strategic Star Team activities with an overarching goal to build business and enhance company image. His strategic leadership and successful teambuilding abilities led to millions of dollars in new business, stronger relationships with clients and local national and international communities, new career opportunities for employees, as well as increased employee participation in community service activities.
Prior to joining ARAMARK, Fred was the Director of Communications for Easter Seals Delaware and Maryland's Eastern Shore from 1998 to 2003, where he was responsible for all media, public and government relations, as well as internal and external communications for 13 locations throughout Delaware and Maryland. He also served on the National Easter Seals Communications Committee.
During his career in financial services for some of the nation's largest and oldest financial institutions, Fred served as Vice President of Marketing for CoreStates Bank of Delaware. While there, he was responsible for internal and external communications to customers and employees, event marketing and promotional programs for new national account acquisition, and marketing programs for 610 regional bank branches.  Prior to that, he worked for Bank of New York (Delaware).
He also served as one of the founding members of the National Advisory Council for the Arts for Boys & Girls Clubs of America.  He served on the Community Involvement Roundtable at the Center for Corporate Citizenship, Boston College's Carroll School of Management. He served on United Way Worldwide's Global Corporate Leadership Advisory Council, is a former member of United Way of Southern New Jersey and Greater Philadelphia's Employee Campaign Cabinet, and served as the first Co-Chair of the Greater Philadelphia Corporate Volunteer Council.  In addition, he served as a WICT mentor and as a Big Brother in the Big Brothers Big Sisters Beyond School Walls program in Philadelphia.
He received his B.S. in Business Management from West Chester University, an A.S. in Business from Widener University, is certified in Corporate Social Responsibility Leadership from the Center for Corporate Citizenship at the Carroll School of Management at Boston College, and resides in Wilmington, Delaware.
Favorite Quote:
"Never let anyone tell you that you can't" — Fred Maahs, Jr.
Quote from the interview:
"My utopia is someday, we're not going to be having this conversation. Access – just is. People with disabilities – just are, and everything is normalized…People with disabilities aren't, "the others". We're not just a slice of the demographic. We're just part of society and not thought of differently."
R.O.G. Takeaway Tips:
Four Ways to Think Differently:
Use your lived experience to recognize the needs and engage to ensure others are included.

Expand your definition of "we". Become a "For All" leader.

Challenge your beliefs about people with Disabilities. Recognize the toxicity of ableism.

Don't let anyone tell you can't. Including you.
Resources:
Coming Next:
Episode 80: We will be joined by Sharon Browning, Founder – JUST Listening.
Credits:
Fred Maahs, Sheep Jam Productions, Host Shannon Cassidy, Bridge Between, Inc.