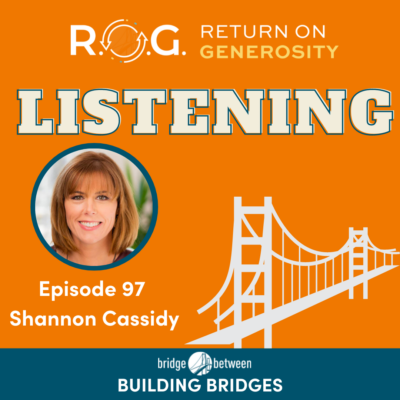 97. Listening

When we listen – fully and actively – we are deciding to give generously our most valuable gifts: our attention and our time.
Host: Shannon Cassidy
Shannon Cassidy is Founder and CEO of Bridge Between, Inc. a boutique leadership development firm specializing in behavioral change, executive presence, effective communication, collaborative teamwork, empowering leadership, and conflict resolution. She provides Executive Coaching, Facilitation (team sessions, retreats, conferences) and Keynote Speaking (conferences, annual events, ceremonies) and Mentoring Programs (associations, ERGs, leadership circles) all custom designed. She has a podcast called R.O.G. Return on Generosity that focuses on how to be a corporate generous leader by sharing time, talent and gratitude. 
Shannon combines her keen ability to get to the heart of every matter with a proven track record as a corporate leader. Before founding bridge between, she spent years building profitable businesses and driving innovation and leadership initiatives. This real-world experience formed the bedrock of her success, enabling her to provide clients with the strategies, tools, and inspiration to thrive during organizational change and lead with vision, values, and purpose.
Shannon has authored several articles and books including Discover Your Inner Strength (2009), The Five Degree Principle: How Small Changes Lead to Big Results (2013), V.I.B.E. A Self-Discovery Journey to Authentic Leadership (2014) and Grounded in Gratitude a one-line-a –day, five-year gratitude journal (2015). Her current efforts focus on the benefits of Generosity at Work.
Bridge Between, Inc. provides two free quizzes to help leaders realize their current state as a Generous Leader and how to diversify their networks. Check them out! 
Guest Favorite Quote
"Our deepest wishes are whispers of our authentic self. We must learn to respect them. We must learn to listen."

–

Sarah Ban Breathnach
"We can do no great things, only small things with great love." –

Mother Theresa
R.O.G. Takeaway Tips:
Listening: the most meaningful way we can give generously to others. 

When we are judging we are not listening. When we are not listening, we are not being generous. Our ego will want to share our opinion – that no one asked for.

Sharon Browning, Episode 80

: Listening as an Act of Love

Practice truly listening:

Don't try to fix the problem. 

Don't turn what you're hearing to mean something about you. 

Don't invalidate or minimize what you are hearing. 

Just listen, with curiosity. 

Listening is the most underrated essential skill any of us can develop. 

Every day we have many opportunities to practice. 

Turn off the judger mind and turn on the curiosity mind.

Network Diversity Index

Quiz to learn more about your network diversity
Resources:
Coming Next:
Episode 98, we will be joined by Frank Blake, former CEO of Home Depot and podcast host of Crazy Good Turns.
Credits:
Sheep Jam Productions, Host Shannon Cassidy, Bridge Between, Inc.